Dear Odisha/Odiya media,
– That I am adorning a Kotpad weave in the Nila Saila Video has been missed by you. This Handloom & weave is a dying lot with no patrons from you. Most of you prefer to wear factory made, poly blends. Other 'modern' material.
– That I have decorated my forehead with the chandan handwork in the performance that pays an ode to tradition is also of no worth to you.
– That I wear a hand crafted, traditional Odishi dancers belt of silver & filigree earrings that is also a dying art & handicraft from Odisha because most of you prefer 'modern' generic jewelry is also ignored.

– How many times is an Odiya song even heard in a music festival national or world stage ?
– Forget about the local Odisha admin which prefers to call Jonita Gandhi, Armaan Malik , Sonu & Sukhwinder to their 150 years Jajpur celebrations & Shankar to other big events like the Athletics meet opening, the rich Odia community abroad never hosts Odia artists & pays them for their craft & art like their Bengali counterparts do. So stop competing with the neighbouring state. The past is the past. That they are better patrons of art & culture & literature is a bitter pill you must swallow.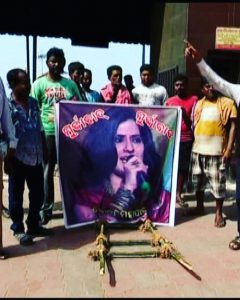 & so, coming back to this, you would rather go ballistic on a live show, real time rendition of a performance of mine from 2017 but ignore the huge success of this new Raja release of mine, from last week pinned on top of my fb page?
Only anger, negativity & bluster cooks your goose? Sad showcase of the times you live in.
Also, all of Odisha would have overflowed with pride if one if theirs won some TV reality show parroting other people's Bollywood covers.No time or inclination to celebrate a self created, produced, original piece of work like Anhad Naad? This song of mine released during the festival of Raja & celebrating Mother Earth crossed over 5 million views at the same time & in record time. No parties for that in the state.
People are burning my posters & filing FIR's in Odisha for singing a Bhajan in a wrong accent & mis-pronouncing some words instead.
Dear jobless such people with too much time in your hands, focus on more important issues.
There are many that face you & the state.
SONA MOHAPATRA