Bhubaneswar:20/6/18: Odisha Chief Minister Naveen Patnaik today urged Prime Minister Narendra Modi to notify Hockey as the National Game of India.
For any country winning an Olympic gold medal is a proud moment. What makes it more glorious is to hear the national anthem being played on the global stage, while the country's flag goes up, Naveen wrote in his letter to the PM.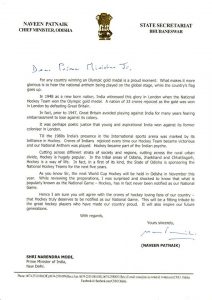 In 1948 as a new born nation, India witnessed this glory in London when the National Hockey Team won the Olympic gold medal. A nation of 33 crores rejoiced as the gold was won in London by defeating Great Britain, he mentioned in the letter.
In fact, prior to 1947, Great Britain avoided playing against India for many years fearing embarrassment to lose against its colony, he added.
It was perhaps poetic justice that young and inspirational India won against its former coloniser in London.
Till the 1980s India's presence in the international sports arena was marked by its brilliance in Hockey. Crores of Indians rejoiced every time our Hockey Team became victorious and our national anthem was played. Hockey became part of the Indian psyche, he wrote.
Cutting across different strata of society and regions, cutting across the rural urban divide, Hockey is hugely popular. In the tribal areas of Odisha, Jharkhand and Chhattisgarh, Hockey is a way of life. In fact, in a first of its kind, the state of Odisha is sponsoring the National Hockey Teams for the next five years, the Chief Minister mentioned.