Angul:16/6/18; Union Minister for Steel Chaudhary Birender Singh today said that the innovative coal gasification process created by Jindal Steel and Power Limited (JSPL) for making steel for the first time in the world will help Odisha becoming a steel hub in the days to come.
Singh was addressing the gathering on the dedication ceremony of four core steel manufacturing marvels at India's most modern 6 MTPA integrated steel plant of JSPL at Angul. Union Minister for Petroleum & Natural Gas, and Skill Development & Entrepreneurship Dharmendra Pradhan was also present on the occasion.
The manufacturing units which were dedicated to the nation in the august presence of Savitri Jindal, Chairperson Emeritus, OP Jindal Group and Naveen Jindal, Chairman, JSPL are: India's largest 4554 m3 blast furnace (BF), India's most modern 3 MTPA Basic Oxygen Furnace (BOF), Worlds first & largest syngas based 2 MTPA DRI plant and world's largest Coal Gasification Plant (CGP) for steelmaking based on Swadeshi Coal.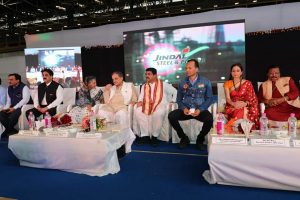 Singh further said about 80 percent of coking coal worth Rs 20,000 crore is imported by India.
"We remain dependent on imports (for coking coal) but Naveen (Jindal) has come out with a plan which can make us reduce this dependence," he said. The minister added that the new technology of making steel by coal gasification helps in producing the metal using domestic coal.
Inaugurating the key steel manufacturing facilities Pradhan said,"The steel industry is going to be a major contributor in employment generation in coming days. JSPL 's adoption of coal gasification as the technology for steel making is a path breaking initiative."
On the occasion JSPL Chairman Naveen Jindal said, "This is for the first time that any company in India is using coal gasification method to make steel. We are hopeful that after one year we will be able to run the Angul plant in full capacity."
The Greenfield complex was initially conceived as India's first and only steel plant to operate on purely swadeshi raw material. Over time, the Angul steel plant has transformed into India's most resilient steel-manufacturing destination, deploying a judicious mix of Oxygen and Electric steelmaking routes.