Bhubaneswar:11/6/18: Chief Minister Naveen Patnaik released a special booklet titled '80 years of Odisha Budget-A Commemorative Volume' at Jaydev Bhawan here on Monday.Speaking on the occasion, the Chief Minister said, "Happy to unveil the "80 years of Odisha Budget – A Commemorative Volume" today.It is a unique publication that provides a glimpse into the rich history of Odisha and presents a record of its changing socio-economic, political and cultural landscape through the 80 years through the lens of the Budget.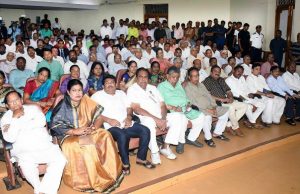 Odisha is the first state in the country to bring out such a compilation. It will be a valuable document for scholars, researchers and policy makers.
Over these years, the state has made significant strides in development and successive Governments have shown their commitment to the progress of the state and people. We have achieved many milestones but there has to be a constant endeavor to work together to fulfil the aspirations of people and carve a better future for Odisha.
"The state came up with a separate agricultural budget in 2016 with focused attention on the agricultural sector. Over the years, the state has made significant strides in educational, health and infrastructural sector. Eighty years is a long time and phenomenal journey for the state. We have achieved milestones during this period," Naveen added.
When Odisha became a state 80 years ago, the budget was only Rs 1.77 crore. When we took over the government in year 2000, the budget had only been Rs 14, 000 crore. Today, the budget is Rs 1, 20, 000 crore, he stated
.