Bhubaneswar:12/6/18;Interacting with people from Sonepur (Sonepur), Oupada & Bhogarai (Balasore), Nandpur (Koraput), Rasulpur (Jajpur), Kantamal (Boudh) and Mathili (Malkangiri) districts, Chief Minister Shri Naveen Patnaik highlighted the impact of AmaGaonAmaBikash program in transformation of villages in the state. He urged officials to march forward with this unique program by leveraging 'technology' from the 3Ts principle.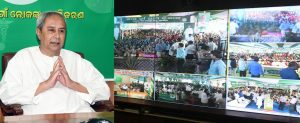 During the session, Chief Minister sanctioned 1633 development projects of ₹41.71 for 170 GPs and directed swift completion of all sanctioned projects.
People from the seven districts expressed joy on being able to participate in the development of their own region and thanked Chief Minister for the opportunity to interact directly.