QINGDAO :10/6/18: Prime Minister Narendra Modi today said only six per cent of foreign tourists in India are from the SCO countries and this number could easily be "doubled" as he underlined the need to boost tourism among members of the grouping.
Speaking at the restricted session of the Shanghai Cooperation Organisation Summit, Prime Minister Modi said that increasing awareness of the shared cultures can help boost the number of tourists.
He said that India's foreign tourism from the SCO countries just constitute for 6 per cent, which he said could easily be doubled.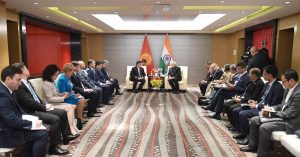 "Increasing awareness of our shared cultures can help boost this number. We will organise a SCO food festival and a Buddhist festival in India," he said.
It is for the first time the Indian prime minister is attending the SCO summit after India along with Pakistan became full-fledged members of the grouping, jointly dominated by China and Russia, which has been increasingly seen as a counter to NATO.
Modi said India is committed to extend full cooperation to a successful outcome of the Summit.
The SCO currently has eight member countries which represents around 42 per cent of the world's population and 20 per cent of the global GDP.
Besides Modi, other leaders attending the summit include Chinese President Xi, Russian President Vladimir Putin, Iranian President Hassan Rouhani and Pakistan President Mamnoon Hussain.
The SCO was founded at a summit in Shanghai in 2001 by the presidents of Russia, China, Kyrgyz Republic, Kazakhstan, Tajikistan and Uzbekistan. India and Pakistan became its members last year.