Cuttack:9/6/18: Union Petroleum and Natural Gas Minister Dharmendra Pradhan on Saturday inaugurated two Compressed Natural Gas (CNG) stations in the millennium city here in Odisha.
The CNG stations were opened at CDA Sector 1 and Siddhi Vinayak Service Station in Bidyadharpur in the city. The CNG stations would provide cheaper, environment-friendly and safer fuel to CNG-run auto-rickshaws.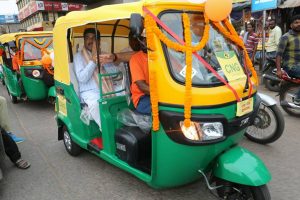 Speaking on the occasion, Pradhan said, "This is the Rajo gift of the Modi government to the residents of Cuttack. The Union government has taken many initiatives to make a Swachh Bharat (clean India). As the pollution level is increasing at an alarming rate across the country, measures will be taken in coming days to reduce it. As the smoke produced by auto-rickshaws is a major contributor to environmental pollution, the opening of the CNG stations is a remarkable step of the government."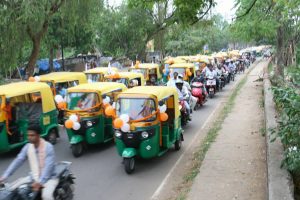 "Apart from the two stations, three more CNG stations will be opened in the city. While diesel-run auto-rickshaws cover a distance of 35 km in one litre, 1 kg of CNG costing Rs 59.6 will cover a distance of 55km," the Union Minister said.
He further stated that the CNG stations will come up in 19 districts in the state including Sundergarh, Jharsuguda, Sambalpur, Nayagarh, Angul, Jagatsinghpur and Khurda. Besides, piped cooking gas connections will be given to the households.
Earlier in December 2017, the Minister had inaugurated two CNG stations at Chandrasekharpur and Patia in Bhubaneswar.