Bhubaneswr:9/6/18;The State Government had signed MoU with Pullela Gopichand Badminton Foundation to set up a world-class Badminton Academy in Odisha. Chief Minister Shri Naveen Patnaik said, the partnership with badminton legend will groom world champions and help realise Odisha's aspirations to win Olympic medals.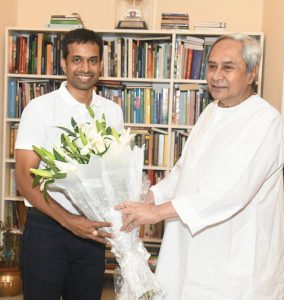 With his guidance, many Badminton players have gone on to triumph at national and international levels. He said that for a state aiming for Olympics, there is no better coach than Shri Pullela Gopichand and assured that the State Government will provide him and his foundation all support.
He released a documentary & coffee-table book titled 'Challenge to Opportunity' on AAC2017. Recalling the grand success of 22nd Asian Athletics Championships in Bhubaneswar, Chief Minister stated that the event demonstrated the leadership ability of the state and emergence of Bhubaneswar as sports capital of India.
Shri Pullela Gopichand hailed State Government's vision for bringing Odisha to global sporting map through gala events like AAC 2017 and Hockey World League Finals and initiatives like sponsorship of Indian Hockey Team and establishment of high performance training centres.