Bhubaneswar:6/6/18;Eminent  Odia  lyricist Narayan Prasad Singh passed away of cardiac arrest in Bhubaneswar on Wednesday. He was 86. Singh was considered to be the most popular lyricist of Odia cine industry. He has created a number of milestone songs in 60s and 70s which suit all kind of moods and situations.
Born on May 28, 1933 at Koeli village, Singh earned his name in the world of Odia music. He was thelyricist of several popular melodious songs in Odia cinema.
He made his debut by writing songs for Akashvani and came to be known as Rasaraj in Odia film industry for penning more than a hundred of songs that touched the heart of both the urban and rural population.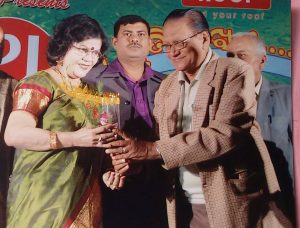 Some of his songs are all time hits and his philosophical and contemporary songs had a great impact on youths.
His song jibana jamunare juara uthere…composed by legendary Balakrushna Dash from the film 'Amada Bata'  Singh's another timeless song jochhana luchan dura nila gagane…from 'Adina Megha' rendered by Nirmala Mishra touches every music lover's heart.
Another  song on kite  'udi udi udi udi jaare gudi' in legendary singer Akshaya Mohanty's voice for odia film Kiea Kahar directed by Nitai Palit  or 'kainchi kakudi nalita pita' for Film Abhibnetri Singh's writings have enriched Odia music industry
Odisha's most popular lyricist, Narayan Prasad Singh popularly known as Rasaraj died at his residence here today following prolonged illness, family sources said.
Eminent personalities in the film industry visited his residence to pay their last respects to him.
In his condolence message, Chief Minister Naveen Patnaik described Singh as a great artistand expressed heartfelt grief over his death.