Newdelhi:4/06/18;The two-day Conference of Governors and Lt. Governors commenced today (June 4, 2018) at Rashtrapati Bhavan with the inaugural address of the President of India, Shri Ram Nath Kovind. This is the 49th such Conference held in Rashtrapati Bhavan and the second Conference presided over by President Kovind.
In his opening address, the President said that as per the Constitution, the post of Governor has an exalted place in the scheme of governance. The Governor is a mentor and guide to the state government and an important link in the federal structure. The people of the state view the office of the Governor and the Raj Bhavan as a fount of ideals and values.
The President said that there are approximately 100 million people in our country who belong to the Scheduled Tribes. A majority of this population lives in regions that are covered under the Fifth and Sixth Schedule of the Constitution of India. Governors can help in the shaping of a road map for the betterment of lives of our fellow citizens, who have not benefited as much as expected from our development journey.
The President said that 69 per cent of all universities in our country come under the purview of state governments. About 94 per cent of students enrolled for higher education study in these universities. Governors are the Chancellors of most of these universities. In their capacity as Chancellors of state universities, it is for them to provide the necessary impetus and inspiration to these institutions and to enhance the level of scholarship. With the instruments of their office and with their rich experience in public life, Governors are ideally equipped for this responsibility.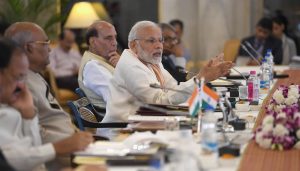 The President said the Governors can help ensure that admissions of students and appointments of teachers in state universities are completed well in time and in a transparent manner. They can also help ensure that examinations, declaration of results and convocations take place as scheduled. It is for them to inspire state universities to maintain this discipline and integrity.
The two-day 2018 Conference will discuss important thematic issues in various sessions which include briefings and presentations on flagship programmes of the Government of India and on internal security; higher education in state universities and skill development for employability; steps taken on the report of Committee of Governors, constituted during the 48th Conference of Governors; and commemoration of the 150th birth anniversary of Mahatma Gandhi. A special session on Union Territories will also be held on June 5, 2018, at which Lt. Governors/Administrators of Union Territories will discuss status of implementation of various flagship programmes.
Apart from the Governors and Lt. Governors of all States and Union Territories the Vice President; Prime Minister; Union Ministers of Home Affairs; External Affairs; Human Resource Development; Skill Development & Entrepreneurship; Minster of State (I/C) of Ministry of Culture and Vice Chairman and CEO of NITI Aayog and other senior officials from various Ministries are participating in the Conference.