Bhubaneswar/Cuttack: Normal life has been disrupted from early morning today with the Congress observing a six-hour 'Chaka Jam' protest in the twin city that began from 6 am and will continue till noon.
In some places, the protests began as early as 5 am in the morning. Small and heavy vehicles were seen stranded in most places of Cuttack and Bhubaneswar.
The Congress activists took to the streets from early in the morning and were seen picketing at several key points of the twin city protesting against the fuel price hike.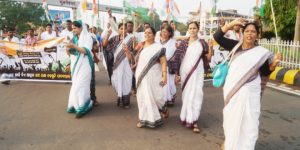 Thousands of buses and trucks were stranded on both sides of the National Highway passing through Cuttack-Bhubaneswar due to the Chakka Jam call by the Odisha Pradesh Congress Committee (OPCC) against the steep hike in the prices of petrol and diesel.
In Cuttack, the Congress activists were not allowing buses to enter into Badambadi bus stand and were seen picketing in Madhupatna, Press Chhak, Jagatpur and Sikharpur areas requesting people not to ply their vehicle as a mark of protest.
Activists of the Congress party were also seen picketing at Vani Vihar Chhak and Rasulgarh square in Bhubaneswar.
Commissionerate Police has made elaborate security arrangements with deployment of 25 platoons of armed police force in the twin city to avoid any untoward situation.