BHUBANESWAR:4/06/18; Chief Minister Naveen Patnaik on Sunday assured mango
farmers of providing all possible assistance to scale up production and improve
market linkages. Inaugurating the Mango Festival-2018 at the Central
Horticultural Experiment Station (CHES), here on Sunday, Naveen said Odisha is
one of the leading producers of mango in the country.
"The mango production has gone up over the years and the State is now
producing 8.3 lakh tonne of mango from around two lakh hectare of area under
mango cultivation," he said. The Chief Minister released a five-year action plan
for augmenting mango production of both table and processing varieties, which
can be beneficial for farmers who are facing crop loss due to varied reasons.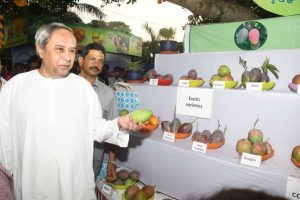 "Mango has the potential to increase exports and enhance farmers' income. The
new action plan would boost productivity and rural economy," he added.
The two-day mango festival, which celebrates the king of fruits, is being
organised by the Agriculture and Farmers Empowerment department in
collaboration with Indian Council of Agricultural Research (ICAR), Nabard and
ORMAS.While the farmers are getting assistance for mango cultivation undervarious schemes like Mission for Integrated Development of Horticulture (MIDH)and MGNREGS, on an average around 3,000 ha of area is being added for
cultivation every year.Agriculture Minister Pradeep Maharathy said additional 56,000 ha of area will be added for mango cultivation in next five years under the new action plan. "While
strategies have been chalked out to enhance production of both table and
commercial varieties, emphasis will be given for promoting processing varieties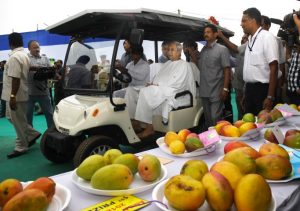 like Totapuri and Kesar apart from other varieties with a view to facilitate mango
processing in the State," he added. Odisha has been producing around 90 per cent of the table variety of mango and
the Horticulture department has planned to encourage the farmers to go for
processing variety so that they can earn more.
Of the total mango production, table varieties like Amrapalli, Dashehari,
Baiganpalli, Langra, Neelum, Himsagar and Mallika constitute a major share.
However, the multi-variety crops would also lessen the chances of crop loss.
A two-day workshop is also being held to make farmers aware about cultivation
practices, use of advance technology for enhancing productivity, processing and
preservation, value addition, developing better market facility and
entrepreneurship through farmer-scientist interaction, buyer-seller meet and
association of farmers' producers organisations.