Cuttack: 2/06/18:The state-level tribal sports competition which began on May 30 concluded today at the Jawaharlal Nehru Indoor stadium in Cuttack. Chief Minister Naveen Patnaik attended the valedictory function.
'It's a great privilege to be here at the closing ceremony of the Tribal Sport Meet. The tournament saw the engagement of 1,31,003 athletes. I want Odisha to get an Olympic medal in future, the Chief Minister said.
On the final day of the event, Bargarh district defeated Sundargarh by three points in Kabaddi final in the senior boys category. In Kho-Kho, Balasore lost by six points against Bargarh in the senior boys category.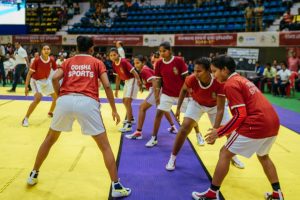 While Jharsuguda boys defeated Sundargarh 1-0 in football, the girls from Sambalpur defeated Mayurbhanj 4-0.
Overall, in the tournament, Khurda was crowned overall champions of the tournament.
The first-of-its-kind competition was organised at the block, district and state level across seven sports disciplines i.e. Football, Archery, Hockey,Kho-Kho,Kabaddi, Athletics and Volleyball.
The scheme is implemented is implemented at the Block level in the 119 Tribal Sub-Plan blocks and at the District level. in the 119  Tribal Sub-Plan blocks and at the District level.
The block and district level saw the attendance of 1,31,003 tribal youth. State level competition had seven venues which in total saw attendance of 4397 youth and the state level finals recorded attendance of 1462 tribal youth.
Odisha Sports Minister Chandra Sarathi Behera, Sports Secretary Vishal Dev and Arup Patnaik, Chairman State Youth Welfare Board were present on the occasion and gave away prizes to the winners of individual events. The three-day event was held in different venues in Bhubaneswar and Cuttack.