Bhubaneswar:2/06/18; As part of the 'Mishran Parva' (party joining function) of BJD, hundreds of BJP workers led by their leader Sangram Paikray joined BJD on Friday at the ruling BJD State Party Office here in presence of BJD supremo and Odisha Chief Minister Naveen Patnaik.
They all hail from Bhubaneswar Ekamra assembly constituency.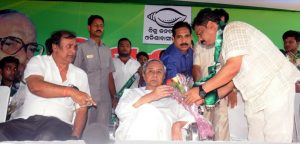 Paikray was a BJD leader earlier and is a former BJD Zilla Parishad member of the area. He had defected to BJP in 2016. Now he is re-back to his parent BJD party after today's joining.
During this BJD joining occasion, Tourism & Culture Minister Ashok Panda, Barabati-Cuttack MLA Debasish Samantray and Bhubanswar Mayor Ananta Narayan Jena were prominent among other senior BJD leaders present on the dais.
In his media reactions, Naveen Patnaik said, "About 2,500 BJP workers and their leader Sri Sangram Paikray from Ekamra, Bhubaneswar assembly constituency have joined the BJD today. Their joining will strengthen our party. I welcome them."
Earlier in the day, many Congrss and BJP workers from Nabarangpur district's Umerkote assembly segment area also joined BJD in presence of the party chief and Chief Minister at Naveen Niwas.