Newdelhi:1/06/18:The six women officers comprising the crew of INSV Tarini, who recently completed a circumnavigation of the globe, called on  the President of India, Shri Ram Nath Kovind, at Rashtrapati Bhavan today (June 1, 2018).
Welcoming the women officers to Rashtrapati Bhavan, the President said that the expedition they undertook was full of challenges – sailing across the world in the face of rough weather and rough seas and covering over 20,000 nautical-miles in 194 days of sailing. Their success exemplifies a never-give-up attitude, determination, teamwork, mental and physical fitness and professional excellence.The President said the crew's success is not just its own. It belongs to and inspires each girl child in our country. This success exemplifies the power of women.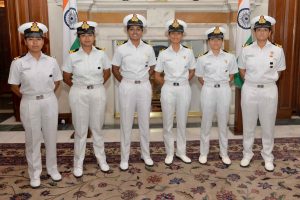 The expedition aboard INSV Tarini was flagged off on September 10, 2017 from Goa and ended with the return to Goa on May 10, 2018. The vessel was skippered by Lieutenant Commander Vartika Joshi, and the crew comprised Lieutenant Commanders Pratibha Jamwal, P Swathi, B Aishwarya and Lieutenants S Vijaya Devi and Payal Gupta.
During its 254 day voyage (including stopovers), the vessel visited Australia, New Zealand, the Falkland Islands (UK), South Africa and Mauritius. The crew also collated and updated meteorological, ocean and wave data on a regular basis for accurate weather forecast by the India Meteorological Department (IMD), and monitored and reported marine pollution on the high seas.