Bhubaneswar28/5/18;:Chief Minister Shri Naveen Patnaik flagged off PareeExpress for creating mass awareness on child sexual abuse. The 15-day campaign will sensitize everyone on detection of such cases. CM underscored importance of awareness to prevent such heinous crimes & provide a secure childhood.
As part of the 15-day campaign launched by Odisha police in collaboration with Unicef, 15 specially-designed vehicles named Paree Raths (Paree Express) will start rolling from various parts of the state. Each chariot will cover two districts in 15 days and create awareness among people against rising sexual assaults against minor girls.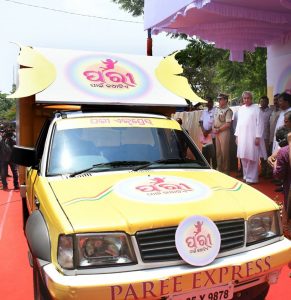 Speaking on the occasion Patnaik said, "It is highly essential to create awareness to stop heinous crime like the sexual assault against minor girls. A conscious society can keep the girls save."
The CM also launched the brochure of the awareness campaign.
Sources said the chariots will be received at different locations by local police, district administrations and other social stakeholders with community participation to generate awareness for prevention and reporting of such heinous crime.
These chariots are equipped with LCD screens displaying audio-visuals for awareness. Street play by artists of District Council of Culture, community interaction in presence of local gentries and guests, distribution of printed materials like leaflets, pamphlets and posters are also part of the campaign.
On the occasion, Women and Child Development Minister Prafulla Samal, MLA Bijay Kumar Mohanty, Priyadarshi Mishra, chief secretary Aditya Prasad Padhi, director general of police RP Sharma and other senior officials were present.