New Delhi24/5/18;: Delegation-level talks between Prime Minister Narendra Modi and his Dutch counterpart Mark Rutte are underway with an aim to step up economic and political ties between the two countries.
Earlier, Modi welcomed the Dutch prime minister to India and said he looks forward to holding talks with him later in the day. "India welcomes you Prime Minister Rutte. I look forward to our talks today," Modi tweeted in English and Dutch.
This is Rutte's second visit to India as prime minister and is accompanied by a strong business delegation. His last visit to India was in June 2015. Rutte's this visit comes within a year of Modi's trip to the Netherlands in June last.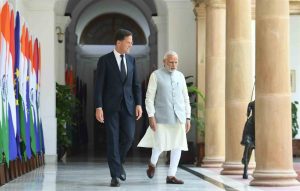 Ministry of External Affairs spokesperson Raveesh Kumar tweeted, "An important partner in our flagship initiatives! PM @narendramodi welcomed the PM of Netherlands, Mark Rutte at the Hyderabad House ahead of the bilateral talks. This is the 2nd visit of @MinPres Rutte to India. Netherlands is the 4th largest investor in India in diverse sectors."
India and the Netherlands have a bilateral trade of $5.39 billion and they are likely to focus on increasing it further. The Netherlands is the fifth largest investor in India with a cumulative investment of $23 billion from 2000 to December 2017. The country is also home to a 2,35,000-strong Indian diaspora, the largest in mainland Europe.
Earlier, Rutte had tweeted in Hindi saying he is happy to be in beautiful India. "India and the Netherlands have shared close relations for the past 70 years which have strengthened over the passage of time. Eager to meet @narendramodi," he wrote on Twitter. Rutte arrived in New Delhi on Thursday on a two-day visit to India.