Berhampur8/5/18;: Chief Minister Naveen Patnaik on Monday launched the ambitious slum-titling project to accord land rights to urban slum dwellers in the state by distributing pattas (land certificates) among 2,000 slum dwellers.
Attending the state-level land rights distribution ceremony at Chhattrapur Stadium in Ganjam district, the Chief Minister distributed pattas and unveiled the Odisha Liveable Habitat Mission.
"Today, Odisha has created a history and emerged as a model state for other states in according land rights to urban slum dwellers. Keeping in view the interests of poor slum dwellers, I have taken such a decision. This will empower the poor and help them lead a dignified life," said Naveen speaking on the occasion.
The scheme will benefit as many as 10 lakh people in the state, he added.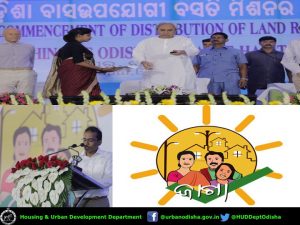 "The state of Odisha is undertaking a special initiative of giving entitlements to over one million slum dwellers, who live in uncertainty," said Tata Trusts chairman Ratan N Tata in his address attending the ceremony.
I welcome such historic step of Chief Minister Naveen Patnaik and his government for this very far reaching important scheme, he added.
I wish the CM and Government of Odisha all best success in making the memorable scheme a reality, he concluded.
The state government had signed an MoU with Tata Trusts to undertake field survey for providing land rights to slum dwellers in March this year. The government has identified about 2.5 lakh urban slum dwellers with the help of Tata Trusts as first step in this regard.