On 5th May Indian Railways has a special reason to cheer and celebrate for the women commuters. The first everLadies Special train in the world was started between Churchgate and Borivali on 5th May, 1992. 5th May 2018 will go down in the annals of history as the 26th anniversary of introduction of this milestone of Indian Railways dedicating an entire train to women commuters. The First Ladies special train, flagged off on Western Railways, was initially run between Churchgate and Borivali and further extended upto Virar in the year 1993.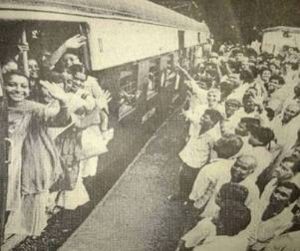 The ladies special has been a boon for the working women who had to earlier struggle to board the ladies compartment in the regular trains. Dedicating an entire train to women meant they could travel more comfortably, which was the primary aim of the services. Running successfully for 26 years on one of the busiest suburban lines it is considered a blessing by all women commuters.
To instill a sense of safety & security amongst the women passengers, Indian Railways has come up with various other novel initiatives & measures since then.  CCTV cameras has been installed in many of the ladies coaches. Talk-back System is a new security measure introduced by Western Railway last year, on the occasion of International Women's Day. In this system, a two way communication is established between a commuter in any of the ladies coach and the guard of the train in the event of any emergency by pressing a button on the unit. This benefits lady passengers, especially, during any exigencies such as security or medical issues.