New Delhi/2/5/18: Odisha Chief Minister Naveen Patnaik today attended the first preparatory meeting for the programmes to be held to commemorate the 150th birth anniversary of Mahatma Gandhi.
Addressing the gathering at the Rashtrapati Bhawan, Naveen said, "The most important aspect of Mahatma Gandhi doctrine of non-violence is that poverty and social injustice are the greatest violence. As Gandhiji said, as long as poverty exists freedom is only a wooden loaf. To remove poverty is the greatest task faced by any government. This cannot be achieved without non-violence."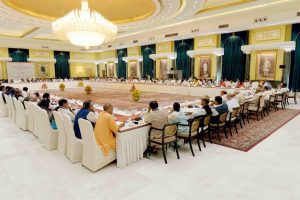 "Progress requires peace. Progress requires the defeat of those who divide society on the basis of class, caste and religion", said the chief minister.
"I believe the greatest tribute India could pay Gandhiji on his 150th birth anniversary is to include the 'uniquely' Indian Ideal of Ahimsa, of Non-violence in the Preamble of India's Constitution", Naveen proposed.
"This will ensure that future generations not just of Indians but also people around the world, will be reminded of the profound truth of this principle", he added.
Modi, in a letter to chief ministers, had stated that the government would be organizing various programmes in the current year to mark the 150th anniversary of Mahatma Gandhi.
"The 150th birth anniversary of the Father of the Nation will be celebrated in 2019. We shall use the preceding year i.e. is 2018, to rededicate ourselves, through our actions, to the ideals that the Mahatma Gandhi taught and lived by. We also aim to bring the Mahatma's message alive for the generations across the world that have not the privilege of living during his lifetime," Modi wrote in a letter to chief ministers.