Bhubaneswar:1/5/18:
At state-level LabourDay function, Chief Minister Shri Naveen Patnaik hailed role of workers in implementing development projects. He launched various programmes for their all-round welfare and well-being.
Highlights of the new initiatives:
• Shramika Sarathi programme with Migrant Workers' Support & Resource Centre to provide safety-related, grievance redressal and advisory services to migrant workers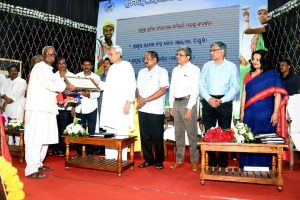 • Lokaseba Adhika portal and Nirman Shramika websites for providing various services and information on workers
• Activity Report of 2017-18 for Building & other Construction Workers Board and Workers Welfare Bulletin unveiled
Chief Minister Shri Patnaik presented the Biju Shramika Bandhu Award – 2018 for notable contributions in the field of workers' welfare in Odisha. He reiterated State Government's continued efforts for ensuring rights, dignity and welfare of workers in the state.