Bhubaneswar:24/4/18:One of the best performances from a girl I have seen for a long time, it's the most difficult film to do. If I try to make that film, I'll fail. I have never seen a film like that, whether in Cannes, whether in Berlin, whether in India. I have ever seen such style of storytelling in anywhere in the world," said Kapur who made box office blockbusters like Mr India and internationally acclaimed "Bandit Queen" and "Shakespeare in Love." The jury chairman's appreciation did not end there as he said there were a lot of good films so the jury argued a lot and finally decided to give Sambit Mohanty's directed "Hello Aarsi" a Special Mention, " especially, for the performance of the girl." The girl he mentioned was the young and energetic Prakruti Mishra playing the lead in the film. Prakruti can now take a bow.
Odia film "Hello Aarsi" won three awards such as Best Odia Film, Best Dialogue for Director Sambit Mohanty for upcoming 65th National Film award..After  that all the media  of odisha  flooded with  the news  of this cinema and about actor  and story no body tries to find  who   had  dared to produced such a film with a hope for create  a new era  in the field of odia art cinema, He is no other than producer of this film Ajaya Routray.
Ajaya Routray (born 16 May 1958) is an Oriya movie  producer and director in the Indian state of Odisha. He worked in the Oriya film industry as an director, writer and producer. He is well known for Directing First  Santali movie 'Jiwi Juri' (Life partner) is being produced by SBT Movie Craf. 'Jiwi Juri' has been adjudged as Best  film and Best Director at  RASCA award Jharkhand State.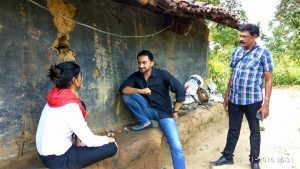 His production TV serial Nabakalebara (The secret ritual of Brahma Paribartan, Changing the soul of Lord Jagannath) has bagged highest numbers of awards in the fourth edition of State Tele Purashkar Utsav-2016. Producer Ajay Routray received the award for best Tele serial. For the same serial best , best character actor, best character actress, best dialogue writer and best editor has-been awarded respectivelyAjaya began his creative Journey in the year 1985 as associate director to Prashant Nanda, the eminent Odia film Actor, Producer and Director. Later he entered into field of Documentary Production, produced and directed over 300 numbers of documentary films.
Ajaya Routray, A graduate of arts and law, owns a production and post production studio at Bhubaneswar.
One  special feature of that film in the end of this movie Akshya Mohanty    unpublished lyrics is being inducted and sung/composed by Akshay"son Mitrabhanu Mohanty
.Lyrics is:
"ରାତି ମୋର ସନ୍ୟାସୀନି
ଦିନମୋର ଯାଯାବର
ନିଜେ ହଜେ
ନିଜେ ଖୋଜେ
ପରିଚୟ ମୋ ନିଜର"..