Bhubaneswar:29/4/18:Chief Minister Shri Naveen Patnaik declared the first Odisha Skills 2018 competition open and announced Rs 1 lakh for gold medalist, Rs 75,000 for silver and Rs 50,000 for bronze medalists. He stated the event will showcase talent of state's youth to the world & create more opportunities for them.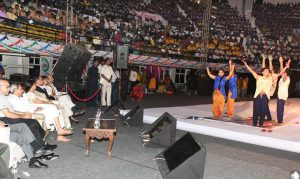 Highlights from his address to the participants:
• Odisha Skills 2018 is the first-of-its-kind state-level skills competition organized by the state Government
• Odisha has been adjudged the best state in the country under Deen Dayal Upadhyaya Grameen Kaushalya Yojana for the second time in a row
• Mission for World Skills has to be Mission 1-2-3 that is one gold, two silver and 3 bronze medals
He congratulated the participants, Skill Development and Technical Education Department, Odisha Skill Development Authority and Panchayatiraj Department and urged collective efforts to realize the vision of making 'Odisha's Best, World's Next'.