China:27/4/18:As Prime Minister Narendra Modi and Xi Jinping held an informal summit in Wuhan, China's People's Liberation Army (PLA) struck a positive note about China-India ties,
n calling for joint global leadership, prime minister Modi stressed on the fact that both nations represent 40 percent of the global population. Improving their lot would automatically have a positive global effect. "We have the responsibility to work for 40 percent of the world population, this means trying to successfully get the world rid of many problems. To work together towards this is a big opportunity for us," he said, according to reports.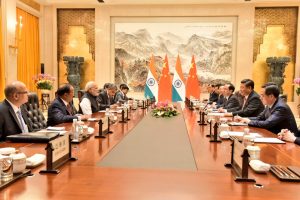 Modi also pointed out that for 1,600 years, India and China had led global economy. He also stressed on other areas of convergence, such as the dovetailing of 'New India' and 'New Era with Chinese characteristics". According to him, if both countries work towards this joint vision, then it would benefit the entire world and cement Sino-Indian global leadership status.
Using the past as a template to remodel the future is a recurrent theme for both Modi and Xi. Both leaders believe that it is incumbent upon them to restore their civilisational status as power centres. While this may present a tangible goal, such revisionism may bring its own set of problems. India would know better than most how such revisionism results in assertive behaviour and how it poses problems for the neighbours.