Bhubaneswar:16/4/18 After giving two art movies like 'Kathantara' and 'Krantidhara' the Kadambini Media Pvt. Ltd. is all set for its first commercial project 'Sefali'.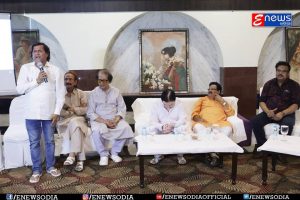 Announcing the title of the movie at a city hotel on Sunday, head of the production house and Editor of 'Kadambini' Odia magazine Dr Iti Samanta said despite being a commercial one 'Sefali' would bear the imprint of its Odia root like the previous two projects. Among others KIIT and KISS founder Dr Achyuta Samanta, Managing Director of Kalinga TV Himanshu Sekhar Khatua along with a number of noted litterateurs, film personalities and dignitaries of the state were present on the occasion
On the other hand upcoming odia film Shakati music release functions was also held same day in an another city hotel, Shakti featuring debutante actor Karan and Suryamayee of Bhala Pae tate 100 ru 100 fame.The film is   being directed by Sudhakar Vasanth and is produced under the banner of  Snehalata FilmCrafts.The dialogues are written by Ranjit Pattnaik.Abhijit Majumdar has composed the music for the film.The film is all set to release this year
.