Bhubaneswar:16/4/18;Chief Minister Shri Naveen Patnaik flagged off the sixth phase Baristha Nagarika Tirtha Yatra train from Sambalpur with around 1000 senior citizens on pilgrimage to Shirdi, Nashik and Trimbakeshwar. He interacted with the pilgrims and assured that necessary steps have been taken for their safe and comfortable pilgrimage.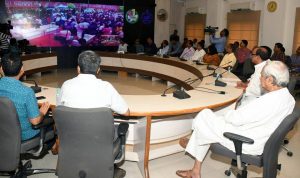 Till date, total of 5933 senior citizens have benefitted from this program. In 2016-17, around 2932 senior citizens undertook pilgrimage to various holy places while the number grew to 30002 in 2017-18. They had earlier visited places like Ajmer, Pushkar, Tirupati, Vellore, Rameswaram, Madurai, Allahabad, Varanasi, Rishikesh and Haridwar.
The senior citizens thanked Chief Minister for facilitating their pilgrimage and fulfilling their lifes spiritual aspirations.