Bhubaneswar:11/4/18: Akshay Parija Production in collaboration with   Prakash Films  and  Zee  sarthak  had announced an ambitious plan of making 12 Odia movies in next 2 years for  the first step they announced the name  of their  upcoming raja release film title as FOUR IDIOT  featuring Sabyasachi,Akash.kunatripathy and Papupom pom along with Elina,poonam,Lipsa Mishra and Chandani.
Basant Sahu of 'Pilata Bigidigala' fame will don the director's hat for this Odia movie, which is a first-ever joint production of Akshay Parija, Prakash Films and Zee Sarthak. While Prem Anand will score the music, Rajani Ranjan will pen down the dialogue.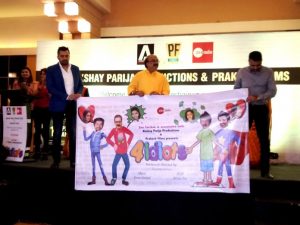 "We want to groom new talents and produce good films. This joint venture will help create more revenue streams for the industry," said filmmaker Akshay Parija.
A household name in Odisha, Kuna Tripathy is happy to play one of the lead characters in the movie. "I am sure this will be a paisa vasool movie".
Expect Elina, all other female leads in the movie are married. "We don't have many comical scenes," said Lipsa.
Comedy will be a new genre for Akash, who had played a gangster in 2016 movie 'Agastya'. "People loved me as a gangster and I am sure, they will accept me in a comic role too," he said. His last movie 'Just Mohabbat' released in 2017 was a romantic drama.