Newdelhi:8/4/18;The Vice President of India, Shri M. Venkaiah Naidu has said that ae must move beyond seeing women as beneficiaries of schemes and encourage them to be participants in designing and implementing their vision for the country. He was addressing the gathering after giving away Women Exemplar Awards to Smt. Munni Begum, Smt. Asha and Smt. Vechulou Kanuo and the Lifetime Achievement Award to Shri Y.C. Deveshwar, constituted by the Confederation of Indian Industry, here today.
The Vice President said that India has the rich culture of respecting and honouring women. He further said that right from ancient times; women in India have been treated as equals and with respect. Many of our rivers are named after women and whenever given an opportunity, they have excelled in different fields from sports to flying combat aircraft, he added.
The Vice President said that women exemplars who have fought against all odds and flourished. They flourished not for their own benefit, but showed the way to thousands of others, he added.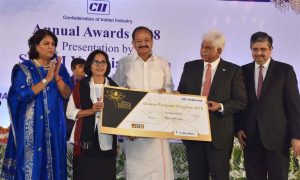 The Vice President said that we must ensure equitable distribution of the fruits of our economic prosperity. He further said that the poor and weaker sections should not be left behind in the growth narrative of India. It is the duty of those who are better off to think of the disadvantaged sections and help in their uplift, he added.
The Vice President said that empowerment of women, who constitute almost half of India's population, is very crucial for the country to make progress and achieve economic prosperity. He further said that in a bid to empower women, the government has launched initiatives such as Beti Bachao Beti Padhao Scheme, Ujjwala and other schemes to promote women entrepreneurship. Niti Aayog also set up a women entrepreneurship cell to promote women's participation in our economy, he added.
The Vice President said that Indian industry has a major role to promote inclusive growth from the grass root level and we need visionary business leaders to provide resources, ideas, energy and the drive in this regard.