Bhubaneswar:8/4/18;On occasion of World Health Day, Chief Minister Shri Naveen Patnaik  launched major health schemes like NIRMAL, SUNETRA, SAMMPURNA Suraksha Kabach, SAHAY, NIDAAN etc. with focus on affordable treatment, eye care and women and child health.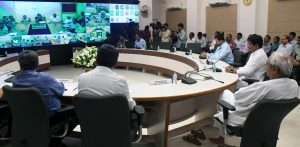 Highlights from Chief Minister's announcement:
• NIRMAL – Annual budget of ₹120 crore for sanitation and support services in public health institutions
• SUNETRA – Univeral Eye Healthcare with an annual budget of ₹120 crore through Vision Clinics
• SAMMPURNA Suraksha Kabacha – Free Mother and Baby kits to more than 5.50 lakh women and newborn with an annual budget of ₹69 crore
• SAHAY – Free dialysis service in District Headquarters Hospitals of Angul, Balasore and Balangir and Capital Hospital in first phase with an annual budget of ₹10 crore. To be launched in rest of the districts soon.
• NIDAAN – Advanced diagnostics services and CT scan made free
• Hike in daily allowance from ₹50 to ₹100 for mothers and children admitted to Nutrition Rehabilitation Centres
Chief Minister Shri Patnaik stated that making healthcare affordable and accessible for the needy is the top priority for the state government.