Bhubaneswar:8/4/18; Former journalist and defeated Congress MLA candidate of Chilika Manas Manjaraj with hundreds of his supporters joined the Biju Janata Dal (BJD) here on Sunday in the presence of Chief Minister Naveen Patnaik, weeks after quitting the grand old party.
Accompanied by his supporters, Manas went on a procession to the Airport Square where he offered floral tributes to the statue of former Chief Minister Biju Patnaik.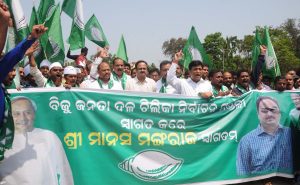 Later, they went to Naveen Nivas where Manas and his supporters joined the BJD. "I am very happy over the joining of Manas Mangaraj in the BJD. His joining would help the BJD further strengthen its base. I welcome Mangaraj and his supporters," Naveen told mediapersons.
Mangaraj said the principles and ideals of Naveen Patnaik had inspired him to join the BJD. "I am inspired by the development works done by the BJD government," he said.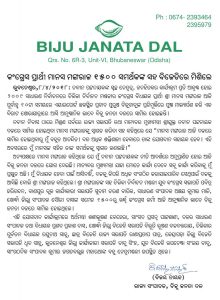 Making it clear that he has not joined the BJD with any precondition of getting the MLA ticket, he said his main objective was to further strengthen the BJD in the coming days. However, going by BJD insiders, Mangaraj could be eyeing the party ticket for 2019 elections from Chilika as the incumbent MLA Bibhuti Bhusan Harichandan is from BJP and the ruling party might want to replace its candidate Raghunath Sahoo.
On March 19, Mangaraj, who unsuccessfully contested the 2009 Assembly elections for Chilika constituency on a Congress ticket, resigned from the 'Hand' party alleging that the party was fast declining in Odisha and blamed OPCC president Prasad Harichandan for it