Newdelhi7/4/18;Rt. Hon'ble Mr K. P. Sharma Oli, the Prime Minister of Nepal, called on the President of India, Shri Ram Nath Kovind, at Rashtrapati Bhavan today (April 7, 2018).
Welcoming Mr Oli to India, the President said he was happy to note that this was his first visit abroad after his appointment as the Prime Minister of Nepal. The President said that India holds him in the highest regard for his leadership and contribution to advancing the cause of India-Nepal partnership. We are confident that under his wise leadership, Nepal will chart a new course of rapid socio-economic transformation for its people.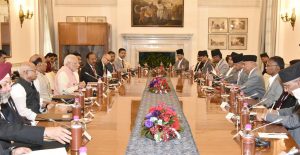 The President said that no other countries in the world have the bonds of friendship and cooperation that exist between India and Nepal.  We are bound together not only by a shared geography but by history, culture, civilisation and close people to people and familial ties.  Regular exchanges of visits at the highest political level between the two countries demonstrate the priority that we attach to our special partnership.  India abiding interest is in the stability and economic prosperity of Nepal.  We wish to take forward our relationship on the basis of goodwill, mutual trust and mutual benefit.
The President said that India values its economic and development partnership with Nepal. India stands ready to expand cooperation with Nepal as per Nepal's priorities. We believe that enhanced connectivity between our countries will boost our economic growth and benefit our citizens.