:5/4/18:Odisha Chief Minister Naveen Patnaik opened for public a newly-constructed Mahendratanaya bridge connecting Gajapati with Andhra Pradesh here on Wednesday.
With its inauguration, the bridge built with Rs 7.35 crore has opened up road connectivity between Odisha and Andhra Pradesh.
During his one-day visit, the Chief Minister inaugurated and laid foundation for as many as 132 projects worth Rs 68,93,16,132 for different blocks in Gajapati district at the Gajapati Stadium here.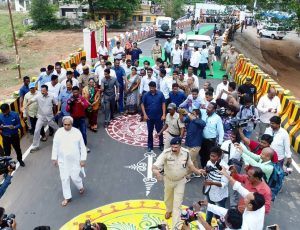 On reaching the stadium, the Chief Minister first visited six stalls opened by various Government departments. He distributed cheques, land patta and rural housing work orders to beneficiaries.
Thereafter, he launched and laid foundation stones for projects prominent of which are a 100-tonne cold storage at Ramgiri, Adarsha Vidyalaya building at Gumma Krushnachandrapur, Information and Aid centre for farmers at Gumma, a 100-bed girls' hostel at Aliganda, Government quarters at Rayagada, ANM centre at R Udaygair, Bharat Nirman Rajiv Seva Kendra at Kashinaga, turmeric processing unit at Ramgiri, 100-bed trial boys' hostel at Seranga, a water supply project at Abarasi-Dambadhia and a 200-bed tribal hostel at Chandipur.
Among others, district Collector Anupam Shah, SP Amulya Kumar Das, local MLA K Surya Rao, Mohana MLA Basanti Mallick, BJD district president Pradeep Nayak and Zilla Unnayan Bikash Parishad chairman Antaryami Gamang were present.
Earlier, many tribals in traditional attire performed a folk dances to welcome the Chief Minister to the district.