Bhubaneswar:12/3/18; Chief Minister Shri Naveen Patnaik launched Special Development Councils for Mayurbhanj, Keonjhar, Sundargarh, Kandhamal, Koraput, Gajapati, Rayagada, Nabarangpur and Malkangiri districts. SDCs to have annual grant ₹1.50 crore per block in the nine districts, total ₹175.50 crore to be spent. Highlights from his address at the event: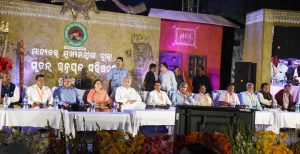 • Odisha is home to 62 tribes & primitive tribal groups
• Establishment of SDCs will boost development and preservation of the art and culture of tribals in the state
• SDCs will work towards benefitting 14 lakh tribal families, focus on cultural, educational, sports and economic development activities
Chief Minister Shri Patnaik reiterated State Government's commitment towards all-round development and welfare of tribals in the state.