Bhubaneswar:9/3/18: City folks had get an opportunity to revisit the golden era of Odia cinema, when the classic Odia film 'Suryamukhi' (1962) will be screened at the 14th edition of Smrutichhaya, by Film Journalist Forum (FJF) at Jayadev Bhawan in Bhubaneswar on Thursday.
Eminent actress and Odissi danseuse Minati Mishra and Soumendra Mishra had played the lead role while Ananta Mohapatra, Dhira Biswal, Sukhalata Mohanty and Samuel Sahu played other major characters.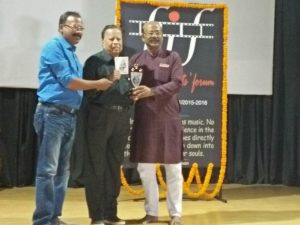 Produced under the banner of Uday Pictures, the film was directed by Prafulla Sengupta while screenplay was written by Gurukrushna Goswami and Soumendra Mishra. The music was composed by Shantanu Mohapatra while Manna Dey, Lata Mangeskar, Nirmala Mishra, Sikandar Alam and Pranab Patnaik had lent voice for the songs.
Lata Mangeskar's 'Eii chuna chuna tara phele aji…', Manna Dey's 'Duniyare samayara nai jae bahi'…remains all-time hit song of this film. .
The film had received President Award as Best Regional Film in 1963. On this occasion, eminent personalities associated with the film had been honoured.  Before the screening, a short documentary on legendary actress, director, producer Parbati Ghose was also be screened.Amog the artist Minati Mishra,Anant Mohapatra,Music Director Santanu Mohapatra and singer Pranab Pattnaik was felicitated by Film Journalist Forum