Bhubaneswar:8/3/18;Sasatwa Foundation in collaboration with BOCCA brings you 'Kolab', a show celebrating feminine vitality, beauty and courage. As part of International Women's Day we have come together to acknowledge, appreciate and honour women artists and activists from across the globe. We showcase here  some of the most extraordinary thought provoking master pieces to mark the impact that women are making in our society, economy, culture and politics every day, around the world.Named after Odisha's life giving river, originating in Sinkara Hills in the Eastern Ghats of Koraput district, Kolab synonymously stands for life, dignity and strength. In its true abstraction, just like a river joins together with its rivulets and tributaries to bring more exuberance to the people living on its banks, similarly, Sasatwa Foundation and BOCCA join forces to bring Kolab to the people of Bhubaneswar.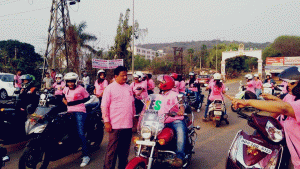 ABOUT SASATWA FOUNDATION: Sasatwa Foundation is an institution for art. The foundation undertakes varied art projects and has specific interest and focus in supporting art engagements benefitting women and children.
ABOUT BOCCA: BOCCA is not just a Cafe. It is a cultural space and stands for Books,  Office, Cafe, Culture, and Arts. It is a platform to promote young and budding talents in the Visual and Performing Arts.
It has been hosting Open Mics in Music, Poetry and Stand Up, and has now started hosting exhibitions of young talents in the field of Painting and Photography.
It's a fine space for exchanges and conversations about culture and art, has in recent times emerged as a strong platform for young budding talents from various fields, esp. visual and performing arts.
Participating Artists:
ADITI BHATTAD, NAGPUR
ANKITA ANANDA, ALLHABAD
APARNA MOHANTY, ODISHA
AVY WOLFSON, ISRAEL
BHABANI G.S.,BANGALORE
BISWAJITA MOHARANA, ODISHA
DAINA MOHAPATRA, DELHI
DENISE KARABINUS, HAWAII
HAMIDA KHATRI, PAKISTAN
JAYASHREE JENA, ODISHA
MILLI PANDEY VIKAMSHI, NAGPUR
NISHAT REHMAN, DELHI
NIROD NALINI BEHERA, ODISHA
PRIYADARSHINI MOHANTY, ODISHA
PRANATI DAS, DELHI
RANI REKHA, BANGALORE
SANGITA PATTNAIK,ODISHA
SASMITA KAMILA, ODISHA
SATYABHAMA MAJHI,ODISHA
SHALINI KRISHNAN, U.S
SHU LUN WU,TAIWAN
SHWETA BHATTAD,NAGPUR
SRIMALI CHANDRASENA,SRI LANKA
VANDANA NAYAK,BHOPAL