Padmashree Prof. Dr. P. K. Jena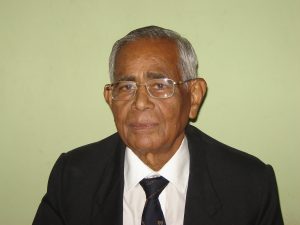 Ravenshaw College, which was established at Cuttack, Odisha on 20th January 1868, is well known to every person in Odisha and in general in India, who had received higher education in science or humanities. This premier educational institution which has produced thousands of eminent personalities of Odisha in different disciplines of science and humanities, became a University in the year 2006. In order to pay highest tribute to this unique institute of Odisha, the concerned authorities celebrated its sesquicentennial year from 20th January 2017 till 20th January 2018. This was supposed to be a very significant occasion not only for Odisha but for India because of its extra ordinary contribution in the field of advance education and grooming a large number of its alumni who had brought the socio economic and industrial developments of Odisha. It is unfortunate that most of them did not know about the celebration. As a matter of fact, the whole country should have in different ways participated in this function.
By the way, I had the opportunity to receive all my higher education in India at Ravenshaw from 1946 to 1956 (Intermediate of Science, B.Sc. (Hons), M.Sc., Ph.D). However, I didn't know, about this grand celebration till September 2017. Considering the contribution of Ravenshaw College to the country since 1868 to date, I immediately suggested to the concerned authorities for considering to undertake the following programmes on a national scale:
Ravenshaw being the premier college to provide higher education in science and humanities, there should be a seminar on the contribution of Ravenshaw in Advance learning in science and humanities and the scope during the years to come.
Ravenshaw College was the pioneer in starting research programme in the area of science and subsequently in humanities in Odisha and this research culture spread to other institutions during the following years. As a matter of fact, at Ravenshaw in the beginning of nineteen fifties, only four to five research scholars in Chemistry, Physics and Biological science were working for their doctorate degree with very limited resources. I was one of them. I got my doctorate in Electro Chemistry in 1956 under the guidance of the celebrated Professor. Dr. Balabhadra Prasad, who was one of the pioneers in starting research programme in Ravenshaw College for the first time in Odisha. Therefore, it is befitting to hold a National Conference on 'Importance of research in enhancing knowledge in the areas of science, technology and humanities'.
Most of the Alumni who had received higher education in Ravenshaw College had contributed significantly towards the industrial and economical developments of Odisha. It would be appropriate if Ravenshaw University organizes a National Conference on 'Conservation and Development of Natural Resources of Odisha'.
When I was a student of Ravenshaw College, there used to be a lot of sports activities under the leadership of Ravenshaw College particularly in the areas of Football and Hockey. Therefore, it would be befitting to hold football and hockey matches on national level during the celebration year.
As during those days, Ravenshaw College was known as a "Centre of Learning" in the whole country, I am extremely disappointed to learn that the authorities did not celebrate the occasion in a befitting manner and even a National Symposium on "Advances in Higher Education" was not organized.
(Former Director General, Council of Scientific & Industrial Research, India &
First Distinguish Professor of Tata Char in Metallurgical Engineering, IIT, Kharagpur)
Chairman
Institute of Advance Technology & Environmental Studies (IATES) and
President, Natural Resources Development Foundation (NRDF)
80A – 81A, Lewis Road, Bhubaneswar – 751002,
Email: [email protected]