Bhubaneswar:6/3/18:AtMSMEOITF 2018 Chief Minister Shri Naveen Patnaik marked promotion and growth of MSMEs as top priority for State Government. Focused on food processing, the MSME Department, Government of Odisha mega-event has participation of 300 MSMEs, 30 startups & 30 entrepreneurs from Iran, South Korea and Bangladesh. Highlights from his address at the event: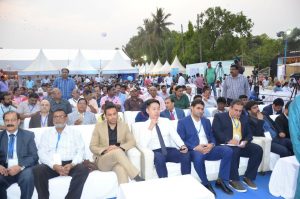 • More than 3.12 lakh enterprises with a cumulative investment of ₹15,300 crore are providing employment to over 13 lakh people
• Investment promotion in MSME & Food Processing sector a focus area
• 336 projects worth ₹1796 crore approved by District Level Single Window Committee since April, 2015
He wished all international participants, industry associations, entrepreneurs and startups the very best for their business promotion and entrepreneurial endeavors.