Bhubaneswar:5/3/18; The 8th Odia Filmfare Award, the largest award of Ollywood industry, was conferred on eminent cine stars in 28 different categories at Exhibition Ground here on Sunday.The evening started off with an ethnic fashion show. Draped in a red handwoven sari, showstopper and Miss Asia Pacific 2013 Srishti Rana mesmerised the audience with her elegance. Bollywood actress Raveena Tandon was the main attraction for the evening. As she took to stage, the audience was stumped by the charm of the 'Mohra' girl. Comedian Sunil Pal made the audience laugh with his witty jokes.Veteran actor Bijay Mohanty was honoured with Lifetime Achievement Award for his contribution to Odia film industry. He was presented cash prize worth `25,000 besides a trophy and certificate. Eminent artistes from Ollywood were awarded in at least 28 categories. "OFA has become the trend setter in the field of appreciating and awarding deserving artistes.  It believes in honesty and shuns favouritism," said OFA founder Ullash Behura.Pradyumna Lenka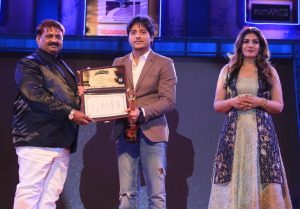 Bhumika Das, Saroj Barik, Chittaranjan Tripathy, Tapas Sargharia, Aparajita Mohanty, Papu Pom Pom, Manoj Mishra, Elina Samantaray and Pralipta Priyadarshini.
The major attractions of the cultural evening were performances by veteran Bollywood stars Raveena Tondon, Miss Asia Award winner Sristhirani and comedian Sunil Pal.