Bhubaneswar:19/2/18;Chief Minister Shri Naveen Patnaik discussed strengthening of partnership with United Nations with delegates from various United Nations Agencies for achieving Sustainable Development Goals. Mr Patrick Van Weerelt, Head, UN Staff College (Bonn), Ms Simona Sow, UN Staff College (Bonn), Ms Nistha Satyam, Deputy Head, UN Women, Dr Deepa Prasad, Head, UNPFA Odisha were present in the meeting. Highlights from the meeting: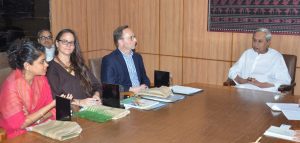 – State Government has created institutional framework for achieving SDGs, mapped its schemes to aligns with the SDGs and has prepared State-specific indicators to monitor the progress
– Odisha is recording high on various social indicators of women development and empowerment
– Remarkable reduction in poverty alleviation has lifted 8 million people above poverty line with a reduction of 24% in poverty in last decade
– Statr is also leading in providing housing to poor and has achieved significant reduction in IMR & MMR, now bettering the national average
– Conditional cash transfer under state's flagship programme MAMATA for pregnant mothers has benfitted 3.1 million women
– Under Mission Shakti, 5 million women have been empowered theough five lakh SHGs
CM stated that a better collaboration with UN Women can bring further sustained empowerment of women in the state.
The delegates of UN agencies stated that UN desires to associate themselves with State Government on SDGs where Odisha can be a model and thought leader in the process of achieving the SDGs.