Bhubaneswar:10/2/18;At INDIAN DENTAL ASSOCIATION conference, Chief Minister Shri Naveen Patnaik stated that various steps have been taken to make oral healthcare accessible to the people of the state such as a dental unit & a dental surgeon at CHC-level, along with adequate infrastructure and necessary equipment. Highlights from his address at the event: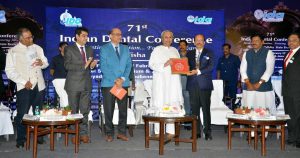 Creation of more than 400 posts of dental surgeons out of state budget
• Dental surgeons in public healthcare facilities up to CHC-level willalso help in detecting oral cavity cancer in early stage and its treatment
• State Government initiative to ensure preventive and curative services for oral diseases in rural and under-served areas through existing public healthcare facilities
• Dental surgeons posted in District Early Intervention Centres to ensure good oral health and dental hygiene of children, who are being screened by RBSK team for dental diseases
• Steps being taken to increase MDS seats across disciplines to ensure skilled manpower in fields of dentistry
• Treatment and reconstruction of jaw bone defects being done in SCB Dental College with most recent methods of micro vascular surgery. College also providing advanced treatment in conservation of teeth.
Calling upon members of IDA to focus on innovative research activities to make oral health services affordable for common people, he wished the event a grand success.