Bhubaneswar, February 6/2/18:7th Asia Steel Conference 2018 kicked off where Chief Minister Naveen Patnaik invited producers to come and set up their industries as Odisha is one of the mineral rich states of India. 7th Asia Steel Conference 2018 has been organized in association with Tata Steel and Indian Institute of Metals will go on till 9th February. Conference will also be a platform for steel experts to discuss new surface treatments, innovative and green technologies for iron making and promoting automation and digitization in steel industry as well. Speaking on the occasion, CM Naveen Patnaik said, "I am delighted to be here at the inaugural ceremony of the 7th Asia Steel Conference 2018 jointly organized by the Indian Institute of Metals and Tata Steel". The conference will address and focus on different challenges faced by the steel industry like optimizing specific consumption of raw materials, especially coke and iron ore, usage of low-grade raw materials, along with decreasing the energy consumption in various iron making and steelmaking operations and, thereby, reducing carbon dioxide emissions. M Naveen also invited the steel producers to set up their industries in the state with the best possible facilitation by the State and wished the Conference all success.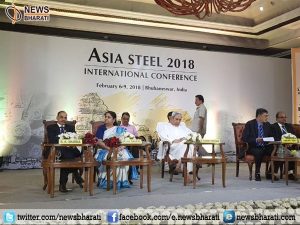 "As you all know, Odisha is a mineral rich state with abundant resources of iron ore, coal, chrome and other minerals. The state Government has been providing support for development of mineral based industries through adoption of appropriate policies. Today, Odisha is producing about half of the country's iron ore. Because of indigenous availability of such high grade iron ore, the critical input for steel making, Odisha has a competitive advantage for production of steel", said the CM.
"From installed capacity of about 4 million tons per annum of crude steel in the year 1999-2000, Odisha now has 47 steel industries with the total capacity of over 33 million tons per annum which is about one fourth of the country's total installed capacity. The pellet plants in the State have an installed capacity of about 29 million tons per annum", Naveen added.
"The Central Government has appreciated the 'Integrated Mines and Minerals Management System' called i3MS that enables IT-enabled monitoring of the mining sector and has advised other states to introduce similar systems. The National Investment and Manufacturing Zone is being developed at Kalinganagar, spread over 160 square kilometers, the Zone is envisaged to become a self-contained ecosystem along with residential, Commercial and social amenities. It will enable the potential investors to set up value added downstream industries", he further added.