Cuttack:27/1/18;Chief Minister Shri Naveen Patnaik joined RepublicDay celebrations at Cuttack and took salute of ceremonial parade. He highlighted Odisha's contribution to nation's progress across various sectors & State Govt's pro-poor, pro-people initiatives transforming lives of people of Odisha. Highlights from his address at the event:

• Salute our jawans, farmers & workers for their indomitable spirit and contribution in nation building
• Our Constitution has given us many rights as well as made us aware of our duties towards the nation
• Odisha has made significant contribution to nation's progress; now it has scaled up in terms of economy, healthcare, education, industries & infrastructure, competing with the most developed states in the country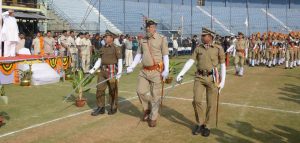 • State Government's pro-poor and pro-people initiatives have resulted in Odisha registering improvement on human development indicators, with a better growth rate than the national average
• Focus on empowering various sections of the society like tribal children, women, senior citizens, youth, workers, farmers, economically backward classes etc.
He urged all to join hands for taking Odisha to new heights and transforming lives of people in the state.