Bhubaneswar:27/1/18; The twin hills in Odisha capital is all lighted up and adorned as a bride for the four-day Khandagiri & Udaygiri Mahotsav, a bid to promote tourism and allure visitors to the Jain rock-cut shelters with intricate engravings.
Amid all the hullabaloo is 45-year-old Amari Dei engrossed in spinning yarns on a charkha on the lawn of Tourism Interpretation centre at Khandagiri, where the festival is being held. She has been into this business for last 20 years.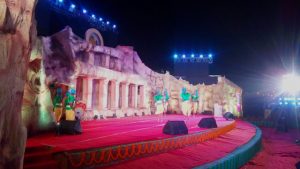 Unfolding various aspects of art and culture in Odisha, the mahotsav kicked off last evening with folk dance performances, the rhythms of which had everyone swaying. "We performed Jodi Sankha and Ranapa combined. Jodi Sankha is performed by dancers while blowing the conch. Two most common instruments, changu-baja and mahuri (wind instrument) is used to produce music. Ranapa is a dance on stilts. It is said that Lord Krishna's mother would tie stilts to his legs when he took cows out for grazing so that he wouldn't get hurt. This is where the tradition began. We want to take Jodi Sankha and Ranapa dance forms a step ahead and for that matter, our troupe has been performing and promoting this art form," said Sunil Kumar Sahu, one of the Ranapa performers from Ganjam's Narendrapur.Chief Minister Naveen Patnaik inaugurated the mahotsav, which replaced one of the oldest events, Kharavela Mahotsav. The event will conclude on January 28 and see some more dance and music performances by artists from Odisha.