Bhubaneswar20/1/18;:Pinky Pradhan,Sritam Das,Manmath Mishra and his wife Krishna Mishra ,Comedeian Hari har Mohapatra now Odia Cine actors Mihir Das and Anu Choudhury in the party fold. In a bid to boost its star power, the Bharatiya Janata Party (BJP)inducted them on Saturday .
Both the actors along with the former Satyabadi MLA Ramaranjan Baliarsingh joined the saffron camp today in presence of Union Petroleum and Natural Gas Minister Dharmendra Pradhan.
They joined the BJP at a special function held here at the state party office.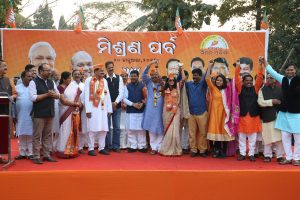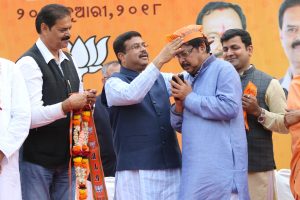 According to the sources, the party will use the popularity of the actors for its campaigning during the Bijepur by-poll and coming elections.
"Now I will get in touch with the people directly and dedicate the rest of my life working for them," Das said
Choudhury said she decided to join the saffron party after being inspired by the ideology of Prime Minister Narendra Modi and will work for the benefit of masses.
Former legislator Baliarsingh, after resigning from primary membership of the BJD, had earlier confirmed about his joining in the saffron party.
Earlier, several actors including Sritam Das, Pinky Pradhan, Harihar Mohapatra and Ajit Das had joined BJP.