Bhubaneswar:19/1/18:Chief Minister Shri Naveen Patnaik inaugurated the 61st All India Congress of Obstetrics and Gynecology organised by Federation of Obstric and Gynecological Societies of India in Bhubaneswar. He highlighted Odisha's significant strides in reduction of Infant Mortality Rate (IMR), Maternal Mortality Rate (MMR) as well as improvements across human development indexes.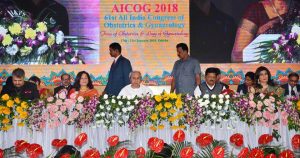 Highlights of his speech:
• Infant Mortality Rate reduced to 40 against National average of 41;
highest 56 point decline in the country
• 51,000 more children are saved annually
• U-5 Mortality Rate reduced from 104 to 49
• 202 point reduction in Maternal Mortality Rate, better than National average of 160
• Institutional deliveries up from 22.6% in 1998-99 to 85.4% in 2015
Better than National average of 78.9%
• 5th in country in full immunization coverage from 16th in 2000
• 30 lakh pregnant women benefitted from Mamata Scheme
• Seven new medical college being opened, 2 already functional at Koraput and Baripada
• 5000 doctors posted since 2010, 2000 more soon
Chief Minister attributed the achievements to the committed efforts of the entire workforce including doctors, paramedics and extension functionaries as well as Government's enabling policies and programmes. He appreciated participation of FOGSI in preparing the State Action Plan for IMR, MMR reduction and congratulated the organisers on the occasion.