Bhubaneswar:19/1/18:At Sambad Coprorate Excellence Awards, Chief Minister Shri Naveen Patnaik hailed brands of Odisha as pride of India. He stressed creation of authentic brands for products and services to unlock the immense potential of rich resources in Odisha.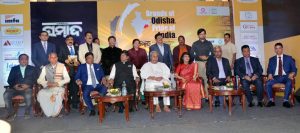 He highlighted state's quantum jump of 114% in export growth during 2016-17 over the previous year and the recognition of 'Champion State' by Government of India. He stated that the rich tapestry of state's handlooms and handicrafts present innumerable opportunities to create global brands.
He hoped the event would spur interest of home-grown brands of Odisha to make their mark nationally and internationally, he wished all participants success in future.