Bhubaneswar;19/1/18:MoU signed among MSME Department, Government of Odisha, STPI, Smt. Susmita Bagchi and IIT Bhubaneswar for establishment of incubator 'Centre of Excellence for Virtual & Augmented Reality' in the IIT campus. It'll cater to startups and new generation entrepreneurs working in Virtual Augmented Reality for immersive visualization and allied areas. More details on the project:
– Centre will undertake state-of-the-art research, develop testing facility/laboratories for advanced algorithms, applications and methods in aid of FR & AR
– Highly focuses course son AR/VR & help in developing app platforms for specific skill development programs, bases on industry need & relevance
– The incubator a landmark initiative in promoting research, technology incubation and product development in the country.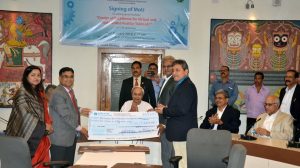 Appreciating Smt Susmita Bagchi's generous contribution of ₹2.5 crore, Chief Minister Shri Patnaik described the effort as a unique example of convergence amongs stakeholders for establishment of the centre which will be one of its kind in the country to be set-up by this kind of collaborative partnership. He wished all stakeholders partnering the intiative and the Centre of Excellence a grand success