Bhubaneswar:17/1/18; Gracing the State Credit Seminar organised by the Odisha Regional Office of National Bank for Agriculture and Rural Development (NABARD) at the State capital city here on Wednesday, Odisha Chief Minister Naveen Patnaik lauded the NABARD for contribution in the development process of Odisha and called upon the banks to play a more pro-active role in meeting the potential credit demand of the State.
Addressing the State Credit Seminar, the Chief Minister said, "I am happy to know that the NABARD has provided developmental financial assistance of Rs 14,715 core during the last year and during the current year, it is expected to cross Rs 16,000 crore."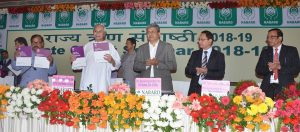 "I am glad that the NABARD has prepared the State Potential Linked Credit Plan that has projected the total credit demand under priority sectors for the year 2018-19 at Rs 71,419 crore as reflected in the 'State Focus Paper'. Under Agriculture Sector, the State Level Plan has estimated credit flow of Rs 38,378 crore in the State during the next financial year," he stated.
The CM in his key note address on the occasion also highlighted, "NABARD, at present, is implementing 51 Tribal Development Projects and 108 Watershed Development Projects through NGOs in the State, benefitting about 94,000 poor families. For making agriculture resilient to climate change, NABARD is implementing a Green Climate Fund project in 15 vulnerable and backward districts, and has initiated massive water campaign."
Attending the meeting Finance Minister Sasibhusan Behera said"  Our dear Chief Minister Naveen Patnaik has also laid stress upon it. Basing on it inclusive growth is possible. Hence, NABARD and banks play a pivotal role in this venture. Repeated reviews are being made in SLVC meetings. Notwithstanding that, 72% rural areas are devoid of banking connectivity till date. Hence, credit flow slows down.