Bhubaneswar:6/1/18;At Business Standard's 4th Odisha Round Table Conclave, Chief Minister Shri Naveen Patnaik highlighted Odisha's higher than national average growth rate & four-fold increase in real per capita income. Highlights from his address at the event: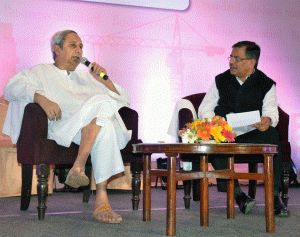 • State Government ceaselessly working towards developing Odisha in to 'Manufacturing Hub of South Asia'
• Rapid industrial development and higher growth achieved with the mantra of 3Ts – Teamwork, Technology & Transparency
• Industry-led ecosystem of value addition, sustainable employment generation and revenue augmentation in the state
• State Government has been a leader in leveraging IT to make it easy for businesses to set up and operate. Recently introduced first-of-its-kind Single Window Investor Facilitation and Tracking- GO SWIFT portal for industries.
• For greater employability of youth and entrepreneurship Government has introduced two major initiatives – #SkilledInOdisha and #StartupOdisha
• During #MakeInOdisha 2016 Conclave, 124 investment intents were received, of which 75 are at various stages of implementation
Chief Minister Shri Patnaik invited all to work with Odisha Government for successful organization of Make In Odisha Conclave to be held from 11-15 November, 2018. He reiterated commitment to provide all requisite support and facilitation to achieve even faster industrial growth in the state.