Puri:1/1/18:Odisha Chief Minister Naveen Patnaik was among lakhs of devotees, who offered prayers at Sri Jagannath Temple at Puri on the occasion of the New Year's Day today.
Revenue & Disaster Management Minister Maheswar Mohanty and Bhubaneswar MP Prasanna Patasani accompanied the Chief Minister during his prayers at the temple.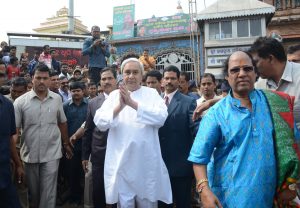 After having darshan of the Lord in the 12th century shrine, Patnaik came out waving to the people waiting outside to greet him.
Chief Minister Shri Naveen Patnaik inaugurating Sanskruti Bhawan at Puri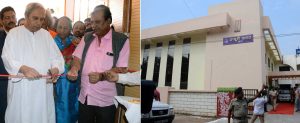 "I prayed to Lord Jagannath for the well-being, peace and prosperity of the people of Odisha," Patnaik told reporters.
Though there was heavy rush at the temple, there had been no special arrangement for the chief minister.
"We took the chief minister via a separate way to the temple keeping an eye that common devotees do not suffer," said Sri Jagannath Temple chief administrator P K Jena.
Jena said the temple was opened to devotees at about 1.45 AM today for smooth darshan as over 5 lakh people thronged the temple.